I have an abundance of sandwich cutters. 26 at current count! Hey, I make
a lot
of sandwiches! Anyways, I needed a way to organize them all, that was easily accessible, but not out in the open - my kitchen looks cluttered enough as it is :) I thought about mounting them on the cupboard door with the
Lunch Punch
iGrips, but (A) there wasn't enough space on the door for all of them, and (B) that might still look cluttered. I had pretty much resigned myself to mounting them all on the wall in the pantry/laundry room - but was still a bit dissatisfied with that, since it's outside of my prep space.
Sigh.
Then we ran out of garlic salt. A
s I added it to the grocery list, I decided to take inventory of all our spices and see what else we needed. I opened the spice drawer ... which is conveniently located beneath the pull-out cutting board... and has tiered rows...
see where this is going
... and
inspiration struck!
I could put the spices I reach for most often on the spice rack on the wall, and the ones I use less frequently in the cupboard above the stove - and use the tiered spice drawer for the sandwich cutters!
Ta-dah!
Before: boring old spice drawer
After: fabulous new Sandwich Cutter Drawer !
Perfecto! Each of the 5 tiers is the perfect width and depth to hold 4 sandwich cutters, and they can be stacked 2 deep - so there's room for all I have now, and more... and see how easy it is to see all my sandwich cutting options at a glance?
And what of the spices? This lovely wall rack holds most of them, still in proximity to the stove (on the wall right above the drawer they were in, in fact), and for the spices that didn't fit on the rack - I had the brilliant idea (if I say so myself) to make a shallow shelf across the back wall of the cupboard over the stove, using long nails and a yardstick. Oh how I love when an organizing idea works out so well!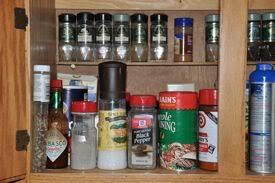 Yes, organizing makes me happy. I'm such a geek.
I know I'm not alone though, which is why I am perfectly comfortable sharing :)