As a NatureBox Snack Ambassador, once every few months I get an opportunity to Share the Health with a bonus NatureBox to share any way I like. This past month I received my first bonus box!
Sailor Boy's squadron recently returned from a trip, so I decided to split this box up into individual snacks for sharing with his fellow sailors, as a yummy and healthy welcome home treat. I embellished each bag with a raffia bow, my NatureBox card, & the squadron emblem. Don't they look festive?
If you'd like to receive a box of delicious & nutritious snacks like this delivered to your door every month, or give the gift of healthy snacks to someone else (minus the ribbon & tag of course), you can sign up at
www.NatureBox.com
Use the code
CRISTI
to get
25% off
your first month!
You can feel good about giving or getting NatureBox for more reasons than you might think; for every box NatureBox sends out, they donate a meal to help feed one of the many hungry children in America.
And in case you need ideas for what to do with all those empty boxes when the snacks are gone, here's one of the ways I'm repurposing mine:
I'd like to thank my silent partner of sorts,
Ludicrous Mama of Biting the Hand that Feeds You.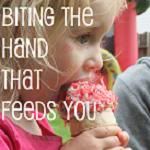 She's not an official Snack Ambassador but she might as well be! She tags NatureBox snacks in all her "beautiful lunches" that contain them, as well as shares my discount code and even hands out my NatureBox card at every opportunity.
Thanks Mama!
Check out all the
lunches made with NatureBox at Biting the Hand That Feeds You.
You can find more healthy snack ideas on the NatureBox blog, Chew on This! and by following NatureBox on Pinterest. Happy (healthy) snacking!