I usually take a few minutes Sunday night to make sure everything is in order for Monday morning, but last night I failed to do so and as a result this morning was chaotic. Mia Bella was ready ahead of time though so I asked her if she wouldn't mind making her own lunch while I made her brother and sister's.
She packed a lovely lunch
♥
She has a turkey & sharp cheddar croissant sandwich, cantaloupe chunks, and sunburst & cherry tomatoes, embellished with
pandas,
hearts,
& one
lollipop bento pick,
because "pandas like candy" :) Well done Bella, it's as cute & colourful as the girl who made it
♥
I had no worries about my girl packing a healthy lunch though, she makes good choices :) One of her lunches was even awarded
3rd place
in
Tray Talk's
Healthy Lunches Kids Love Photo Contest!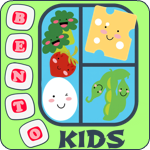 Kindergartner Sprout "helped" me pack her lunch by standing beside me and suggesting what went in it :) She loves sandwiches made with the
CuteZcute sandwich cutter
and today she chose the cat face:
Some of the stuff used for these lunches: