We love our
Lunchbox Love
note cards; they're an easy way to add some extra love to the sproutlets' lunches. And a little learning fun too! All the notes have a sentiment side, but on the flip side, some have jokes, and some have tidbits of trivia. We especially love the ones with animal facts
♥

I made my girls bentos to match the themes of their Lunchbox Love :)


Bella's panda bento was inspired by the lunch Jenn of Bento for Kidlet packed for her Kidlet today - I just love the colourful pasta she made! We had some leftover marinara sauce so I put that in a Thermos and cooked up some leafy veggie pasta for Bella to pour it over. She also has cucumbers, almonds (in the Mini Dipper), apples with a teeny bottle of cinnamon & sugar to sprinkle, and cherry & sunburst tomatoes.
Sprout has a starfish bento with cheddar cheese stars, little starfish peanut butter sandwiches, starfish cheese crackers, & apple wedges.
Birdie's turtle bento has "turtle egg" peanut butter sandwiches, apple bites, yogurt with sea turtle sugar sprinkles, and a cup of plums bites & red grapes.
Want to add some Lunchbox Love to your little one's lunch? Visit the
Lunchbox Love from Say Please
website! There's often a special savings coupon code on the home page, or you can use my code, BENTON, to save 15% :)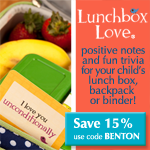 Some other stuff used for these lunches: