Today's post is part of a blog hop! Click the bunny at the end to take you to the next stop on our Bunny Hop :)
The sproutlets are on Spring Break, so I don't have to pack lunches this week! I like making them fun bento lunches, but it's nice to not need to have them made by a certain time, and to not have to make sure they can be packed in the lunchboxes and survive the backpacks :)
They had friends over yesterday, which made 9 kidlets total, so I did the easy thing and made soup and toasted bagels for lunch. I did make a fun afternoon snack for the 4 younger kids though. I had a bunch of egg-shaped Jell-O Jiggler molds so I put together some Spring-y nibble trays:
Baby carrots with celery sliver stems, strawberry bunnies, celery & carrot tulips, string cheese bunnies with tails, cheddar bunnies & a cheddar bird, and Annie's Homegrown Fruity Bunnies cereal. I made 4 total - which I thought would be enough, 1 each - but maybe my girls are light eaters, or maybe it's a boy thing, because it wasn't - the visiting little boys polished off their own, finished what my girls didn't eat, and still wanted more! I just refilled the eggs with the same things, but not cut up cute :)
Pickle doesn't eat soup so he had peanut butter sandwiches:
He's not big on his food having a face so I made his bunny a rear-view :) I used the bunny head cookie cutter that came with the
Wilton 101 Cookie Cutters,
and added feet and a tail to make it resemble a bunny from behind - and the carrots are upside down rocket ships.
Here's a bunny bento I made for Sprout a few days ago but never posted. Most of the same stuff as in the nibble trays plus a hard cooked egg bunny peeking out of some cucumber grass. And I added a couple of Annie's Homegrown Bunny Grahams to the Fruity Bunnies cereal:
Click the bunny to hop along to the next blog,
What's For Lunch At Our House?
, then keep following that fluffy tail all the way back here and you won't miss any of the Spring-y Easter-y lunch fun!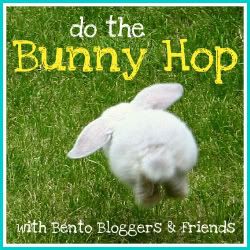 Stuff I used for these lunches: